Why not visit us and browse our wide range of quality products. We have ready made food hampers and bags in different sizes. Choose from a mixed selection of goods, or perhaps a more specific selection such as olive, cheese or fruit baskets.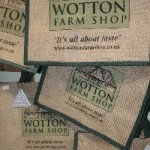 Alternatively you can choose your own items and we'll wrap them for you in a hamper, re-usable eco-bag or basket.
Wotton Farm Shop Gift Vouchers are also available in various denominations.
We have a range of plants and pots, and in Spring offer a renowned hanging basket service.
Complement your gift with one of the many cards produced by local artists Jane Lampard and Claire Failes.
Our staff are always happy to help and discuss your needs
https://www.wottonfarmshop.co.uk/wp-content/uploads/2016/06/IMG_3328.jpg
Phone us on 01453 521 546 to pre-order your requirements and check availability, and we'll have it ready for you to collect.