Wotton Farm Shop offers its Pick Your Own (PYO)  service for a variety of summer fruits, usually beginning mid June
We are now open for PYO  blackberries
Strawberries, tayberries, Gooseberries, blackcurrants,red currants, plums, broad beans and Raspberries have finished sorry.
Crop conditions do change daily please phone 01453 521546 for update and availability. Daily picking until 4.30pm Monday – Saturday and 3pm Sunday.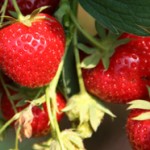 We took the backache out of strawberry picking a few years ago when we developed our unique tabletop growing system. Because of it's qualities we only use one strawberry variety 'Sonata', which produces large, sweet fruit of the very best quality.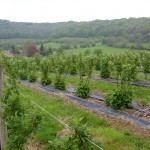 When you have finished picking your produce, relax with a drink and a snack at our picnic tables outside the shop, and take in the breathtaking views. More information.