Award Winning Hanging Baskets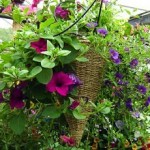 Our award winning hanging baskets are second to none. We can refill your own basket or new ones are available to buy ready planted. Once again this year Wotton Farm Shop will be supplying all the hanging baskets for Wotton in Bloom.
For our re-fill service bring in your empty baskets during April/early May. We will plant them according to your needs, nurture them in our heated greenhouse ready for collection at the end of May/early June.
Our new ready planted basket range is available through May and June. We use wicker and rattan baskets for that traditional but eye catching look. Many local town councils use our baskets and have won awards.
Bedding Plants, Herbaceous Plants and Shrubs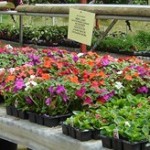 Between April and June we offer a range of bedding plants all grown here on the farm. This extensive choice is competitively priced and of the highest quality. A member of our staff is always on hand to offer advice and assist with your purchase.
A range of herbaceous plants and shrubs are also available all year round.
Fruit and Vegetable Trees, Plants and Bushes
Throughout the year you can buy our own fruit and vegetable crops in containers to take home and cultivate. These include raspberries, strawberries, blueberries, gooseberries, currants, tayberries, blackberries, asparagus crowns and runner beans.
Composts
To complete your gardening needs we have a range of Bulrush composts including multi-purpose, sowing & cutting, farmyard manure, growbags, eracacious, bark, plus our own used strawberry bags.
Phone us on 01453 521 546 to pre-order your requirements and check availability, and we'll have it ready for you to collect.