We are pleased to be bringing you these delicious dips from Dipnation. With two ranges, 'Classic Dips' and 'Chunky Dips', these flavoursome dips are perfect for entertaining and can be used to add extra dimension to any meal.
Chunky Dips
Dipnation's original chunky dips are made with a base of crunchy cashews and authentic Italian parmesan cheese. Combined with creative and fresh ingredients these imaginative dips appeal to all lovers of fine food. Choose from 6 delicious flavours;
Sweet Thai Chilli (Great Taste Gold Award)
Roasted Butternut & Sweet Chilli
Roasted Red Pepper
Spinach & Feta
Sun Dried Tomato (Great Taste Gold Award)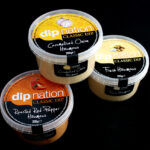 Classic Dips
Bursting with delicious, fresh ingredients, these dips recreate authentic middle-eastern recipes that are aromatic and wholesome. They are packed full of natural goodness, contain no additives and are suitable for vegetarians.
Fresh Houmous
Caramelised Onion Houmous
Roasted Red Pepper Houmous (Great Taste Gold Award)
For more information and recipe ideas visit the Dipnation website.