The time came, when Paul was nearing the big 4 0, to invest into a machine to help harvest our delicious crop of home grown asparagus. This ingenious machine not only saves time but also saves Paul and his team from back pain!
Up until this May Paul and his team spent hours during the 2 months of asparagus season hand picking each asparagus stem walking up and down the rows in the field, bending to pick each one. Needless to say by the end of the two months their backs had had enough.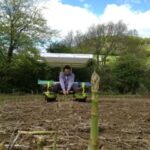 Thankfully this year one lucky person gets to use the asparagus harvesting machine. They can put their feet up and pick away at a lower level, still selecting and cutting each stem of asparagus individually. The only difficulty is steering the machine with your feet! No more back pain and asparagus brought quickly and painlessly to the shop in record time. This is the freshest asparagus you will find locally – picked and for sale in the shop on the same day!